Hologram paper bags are widely demanded bags used for various purposes like as shopping bags, gift bags or promotional bags. Hologram paper bags are available in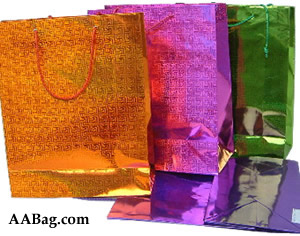 assorted colors, designs and prints and sizes. These bags have three-dimensional effects which make all the difference in marketing and advertising media. Professionally laid out graphic design on these bags can help communicate your message clearly to your customers. That is why hologram bags are used as packaging material for gifts and other stuff in various organizations and commercial outlets. Best and impressive holographic effect can help in corporate branding, sales and marketing advertisements and promotional media. Professionally created 3D design in these paper bags is a key in unveiling the full potential of print media that makes an impact.
Different between with Holograms and Holographic Foils >>
Our hologram paper bag >>
Styles of hologram paper bag
Hologram bags are available in various sizes. The holographic paper is available in various colors and prints. Finishing options are applied after completion of holographic process. The designs on the cover are many and varied. Some are custom printed like the name of the company or the company's logo. The holographic effect gives a very shiny and glossy look to the bag. There are hologram bags with embossed effect which gives a raised look. The holographic paper bag can also be foil stamped in Gold, Silver, Copper or any range of colors. The handles of these bags are usually made of plastic or cotton thread.
Uses of hologram paper bags
Hologram paper bags are not supposed to carry very heavy stuff but they are used widely for promotional purpose in big corporates and organizations. They are ideal to be used as gift bags and shopping bags.